Blockchain Education & Standardisation: Navigating (beyond) the European Landscape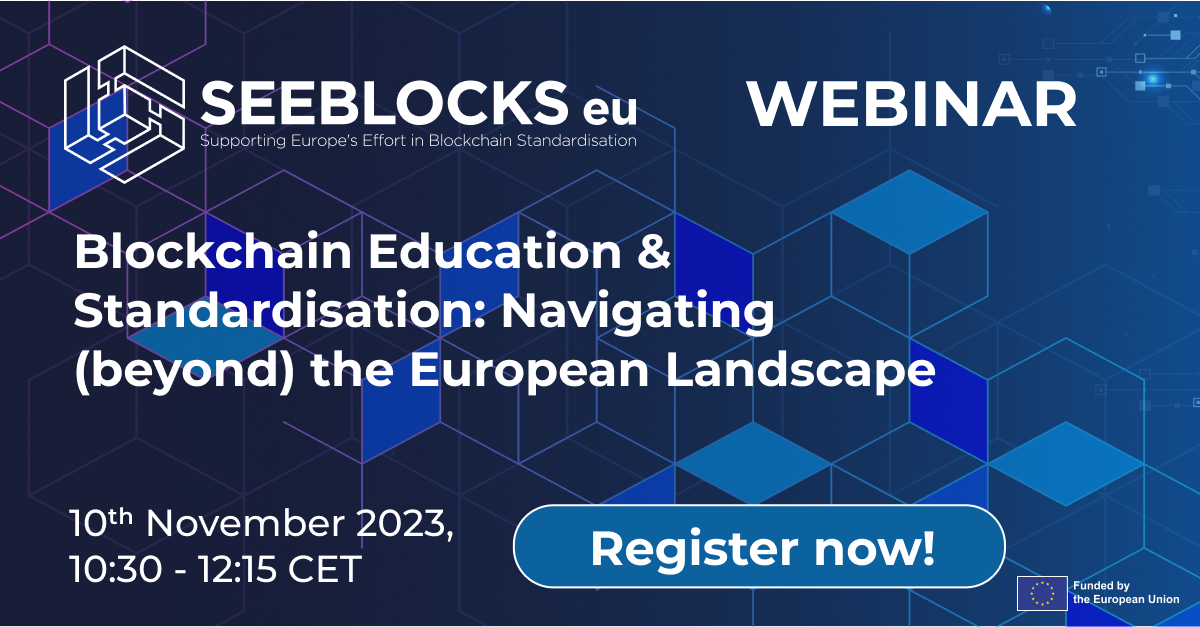 Time & Date: 10:30 - 12:15 CEST, Friday 10th November 2023
By creating trust in data in ways that were not possible before, blockchain has the potential to revolutionize how we share information and carry out transactions online. The European Commission's strategy is designed to meet these goals, particularly in terms of trust, transparency, and decentralization.
Education in blockchain technology is essential for individuals and organizations looking to understand, adopt, and work with blockchain systems and to equip them with the knowledge and skills needed to understand, adopt, and leverage this transformative technology effectively. Such ambitious objectives are the foundation of the European Blockchain Strategy.
Reinforcing European values, ethics and policies, for sustainability (incl. green deal), technological sovereignty in blockchain/DLT Standardisation through education and training initiatives: SEEBLOCKS.eu aims to address the challenge influencing the future blockchain ecosystem with EU inputs linked to EU values.
In this webinar, we will present you the next steps of the project in this direction, leveraging our experience in research on ICT Standardisation, but also pointing out the key factor of education in Standardisation (and policy-related aspects), with the support of authoritative speakers from EU initiatives, associations and organisations. 
Speakers
Knut Blind - Head of Business Unit Innovation & Regulation at Fraunhofer ISI (Presentation)
Stèphane Caporali - Caporali Conseil & Member of Cen Cenelec SFEM (Presentation)
Raymond Forbes - Vice Chair of ETSI ISG PDL (Presentation)
Steffen Schwalm - Principal Consultant | Senior Manager Digital Identity & Trust at MSG (Presentation)
Raimundas Matulevicius - Professor of Information Security at University of Tartu & CHAISE Representative (Presentation)
Serena dell'Agli - Senior Technology Manager at European DIGITAL SME Alliance (Presentation)
Philipp Hartmannsgruber - Head of DLT & Digital Assets at M.M.Warburg & CO (last minute cancellation)
Ash Costello - Member of the Expert Panel at EU Blockchain Observatory and Forum (last minute cancellation)
---